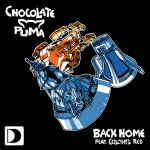 We're very proud to present you our new single, Back Home. It's a stomping kinda old school House Jam, with lyrics about bridges and stuff, totally aimed for the dance floor.
It features the vocals of Colonel Red, an amazing soul singer, who you might know from his Sweet Liberation album and his own Ruff Language label.
We think it's awesome that Red is also working with us now, as he has a unique voice and is a nice chap, and we really have a great connection in the studio. So expect a lot more from us three in the future.
The artwork for the sleeve is also something we're very proud of. Drawn by multi-talented Marc Sokpolie, it's a result of many brainstorm session at the choco labs, which resulted in a series of illustrations that will feature on our records sleeves and other Chocolate Puma outings.
Out on Defected: 3/05/2010