Studio Tips: Parallel Compression
Posted on April 20, 2010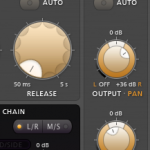 We all love our daily dose of compression, and we know some amongst you can't resist smacking the hell out of a signal. That's cool, but the downside might be that you lose a lot of the dynamics and transients, and that your drumloops, synths, or even your whole track ends up sounding squashed and lifeless.
So, imagine you've got this really cool drumloop with hard hitting snare drums and really punchy attacks on the kick drum, but there's also al kinds of cool noises and ghost notes in the background that you want to bring forward in the mix. But you don't want to lose the punch!
Or you want to glue sounds together without messing with the peaks.
Or add that nice character that comes with this emulation of a vintage tube compressor without flattening the loud parts.
Sometimes we record some live percussion, which might have both great attacks from hands hitting a piece of drum skin, and nice soft undertones and noise at the same time that you really want to make more audible.
This is where parallel compression comes in. It's a technique we use A LOT. Even back in the days, when we were still mixing on our analog mixing desk and Drawmer and Focusrite hardware compressors, we used parallel compression in practically every song.
Now what is it then?
Wiki says: Parallel compression, also known as New York compression, is a dynamic range compression technique used in sound recording and mixing. Parallel compression, a form of upward compression, is achieved by mixing an unprocessed 'dry', or lightly compressed, signal with a heavily compressed version of the same signal. Rather than bringing down the highest peaks for the purpose of dynamic range reduction, it accomplishes the same end by bringing up the softest sounds, adding audible detail.
So by combining a dry uncompressed signal together with a compressed version you get that nice squashy/characteristic/pumping sound of compression AND the impact, attacks and dynamics of an uncompressed signal.
Now, how do you use it?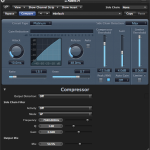 If you're a Logic user and using the standard Logic compressor it's fairly straightforward.
– Just put a compressor on a channel, fool around with threshold, ratio and other knobs and squash it!
– Then go to the bottom lefthand corner and click the triangle to unfold this menu with extra parameters.
– At the bottom you will see a slider called 'Mix'. If you pull the slider to the left you're mixing the dry signal in.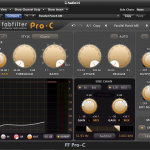 Also, a lot of third party plug-in compressors have some kind of dry/wet slider, like one of our favourites, Fabfilter's Pro-C.
Now, if your favourite compressor plug-in doesn't have a dry/wet slider, don't worry, as there are different ways of getting parallel compression.
– Put a compressor on a bus channel.
– Besides routing your signal to your main output, also send it to the bus channel using the send knob.
– Make sure you switch on any kind of latency/delay compensation, or you might get some nasty phasing problems.
or
– Make a duplicate of your uncompressed audio track
– Put a compressor on it.
Yay, you're compressing parallel!
Now, you can use it on whatever you like. For example we always use it on our stereo bus, and very often on percussion and our drum tracks.
Audio examples:
Uncompressed signal: this sounds really static. Notice that the soft percussion hits are difficult to hear.
[audio:Parallel_Compresssion_Dry.mp3]
Heavy compressed signal: this might sound cool, but it lacks power and dynamics
[audio:Parallel_Compresssion_Wet.mp3]
70% uncompressed signal mixed with 30% heavy compressed signal: now we get the best of both worlds. Cool squashy sound of the compressor, soft notes are more audible, but we still retain the power and punch.
[audio:Parallel_Compresssion_30Dry_Wet.mp3]