Interview With FXpansion
Posted on December 9, 2010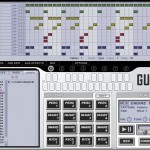 Music software developers FXpansion are known for their excellent drum plug-in GURU. We love GURU, and we just started using its rather excellent successor GEIST. So FXpansion thought it was the right moment to sit down with us and ask us some questions.
FX – How did the collaboration of DJ Zki & Dobre aka Chocolate Puma first come about and what's kept you together all these years?
Z&D – We met around 1991 at a radio station where Zki was doing his show. He played me a demo of a track he was working on, and I instantly had some ideas about it. So we hooked up and we soon discovered that putting us in a room with equipment and crazy ideas worked very well indeed. Around the same period we also made a new jingle for his radio show which soon became one of our biggest hits, Give It Up by The Good Men. What kept us together is the mutual respect we have for each other. We both have our strange little things, and we are quite different people, but despite these differences we have always gone in the same direction in how we look at music, fashion or art.
FX – As producers you've worked under a number of different guises, why all the different guises?

Z&D – It was just a different time back then. For us it just made sense to use all these aliases, partly because, despite the huge success, we liked it to be underground and let the music speak for itself. But also because musically we were all over the place and we needed all these different projects. Now times have changed and we narrowed it down to just one, Chocolate Puma.
FX – Typically what roles do you play when creating a DJ Zki & Dobre production?

Z&D – Basically it's me behind the controls and Zki giving input. And after all this time making music together we don't have to use many words anymore to express how we feel about a sound or a drum. It became such a natural process.
FX – Tell us a secret about the way you make music?

Z&D – I think we're very open for any musical style and sounds. We always keep our ears open for the next generation, as you can learn a lot and get lots of inspiration from young kids making the next big thing. That makes us work harder, as we don't want these kiddos to beat us at our own game, haha.
FX – What impact have advancements in music technology had upon your production technique?

Z&D – We see it as a constant evolution. Nowadays we completely work 'in the box', but we're still using old school mixing techniques we learned over the years, while taking full advantage of all the possibilities within a DAW. And those possibilities are endless, so you can really lose yourself going deep into details and forget the important stuff, but other than that we love it.
FX – What FXpansion products do you own and how do you use them?

Z&D – We own GURU and we use it in every production. It's basically the core of our beats, and beats are the most important thing in our tracks. GURU is great, because it's fast and simple. We also use samplers like Kontakt, but we feel that all the possibilities are a bit too much for us when it comes to laying down beats. We like to work fast, especially with beats, and GURU is just perfect for that.
FX – Do you have any GURU tips or tricks you would like to share?

Z&D – We used to chop up samples with Recycle, but the fun thing with GURU is that it's kind of unpredictable in the way it slices your samples. So for us it was quite surprising to discover new things in a lot of our old records and samples we've already gone through over the years. So, go back to your record collection and your sample library, throw it in GURU and see what happens. Great fun.
FX – What do you do to entertain yourself when you are on tour?

Z&D – If we're not in a plane reading a book, making a bootleg on our laptop or just feeling miserable of the few hours of (or no) sleep, then we just love to visit all these different countries. I mean, we've just been to Azerbaijan, not really a destination you would choose for your holiday, but how cool is it to visit a place like that?
FX – Where do you see yourself in ten years time in terms of making music?

Z&D – Well, we're making records now for almost 20 years, and we couldn't imagine all the things that have happened to us. But I think we will still be trying to make the best record we can.
Since this interview took place Zki & Dobre have been getting down with Geist (GURU's successor) and find it to be even faster and more intuitive than GURU! 🙂